I am writing my thoughts, experiences. One small decision can change your entire life.
Words are really powerful if you just look deeper the meaning of it you will
actually relate and somehow it inspires you.
People use my quotes on different Websites and Facebook.
Thanks!
(Himanshu Art Institute)
Best Institute of Fine Arts & Crafts in Delhi, Gurgaon, Vaishali, India.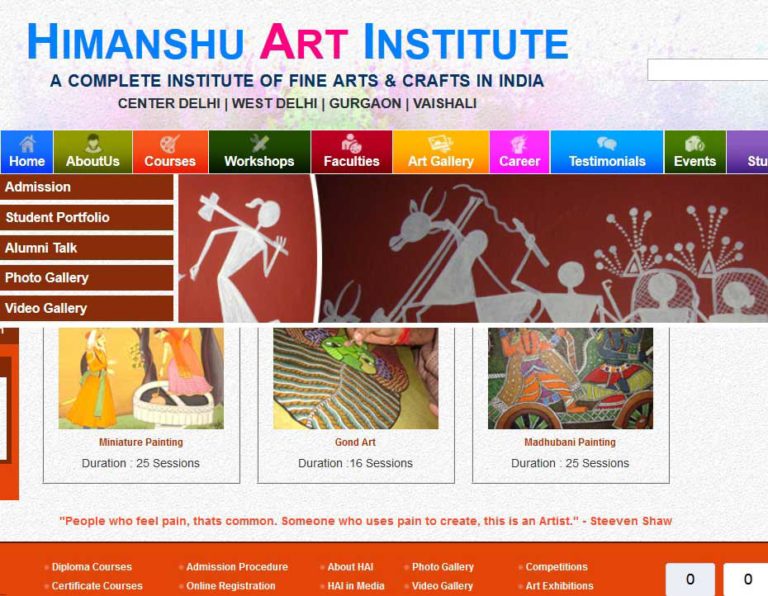 http://www.himanshuartinstitute.co.in/courses/indian-traditional-art/certificate-course-in-warli-painting.html

RAMUNE VAN MOORSEL
(Photographer)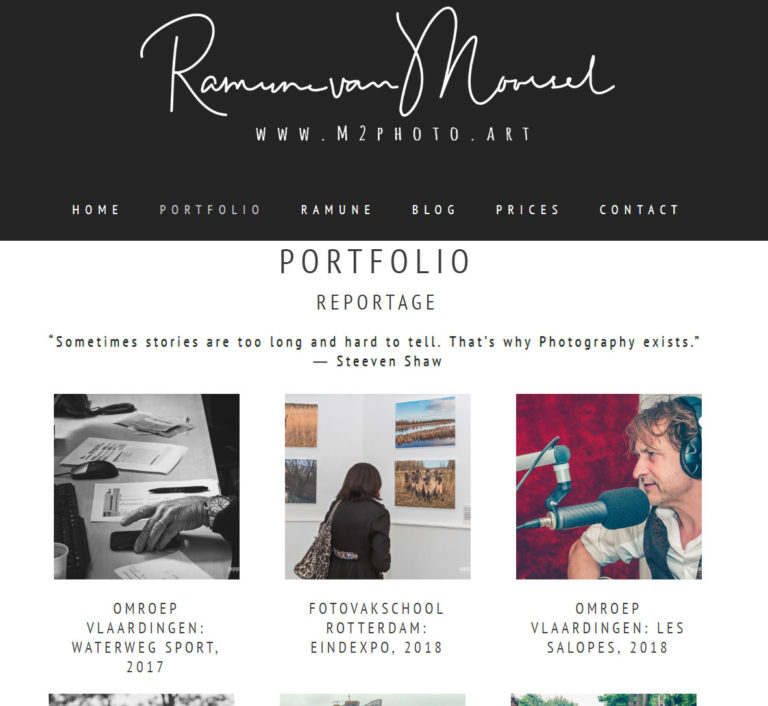 https://www.m2photo.art/portfolio/1/3/reportage
Joe Calloway (Twitter)
Business author, speaker, and consultant who helps great companies.
He is a business author, consultant and speaker and his client list reads like an international
Who's Who in business, ranging from companies like Proctor
& Gamble and Coca Cola to Cadillac and American Express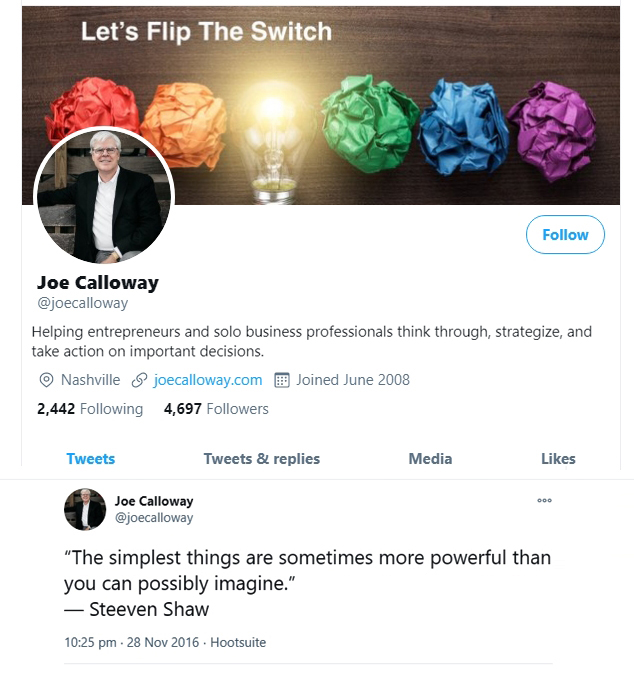 https://www.google.com/search?q=joe+calloway&oq=Joe+Calloway
Quote Of The Day
(Linkedin)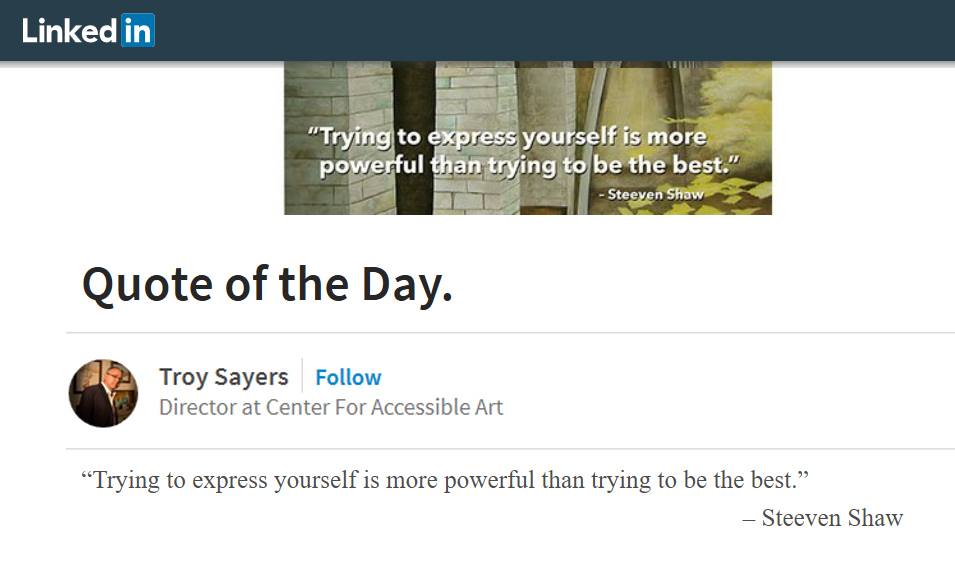 http://www.linkedin.com/pulse/quote-day-troy-sayers-6166578760104624128
Pratap K. Pothen
Indian actor,director,writer & producer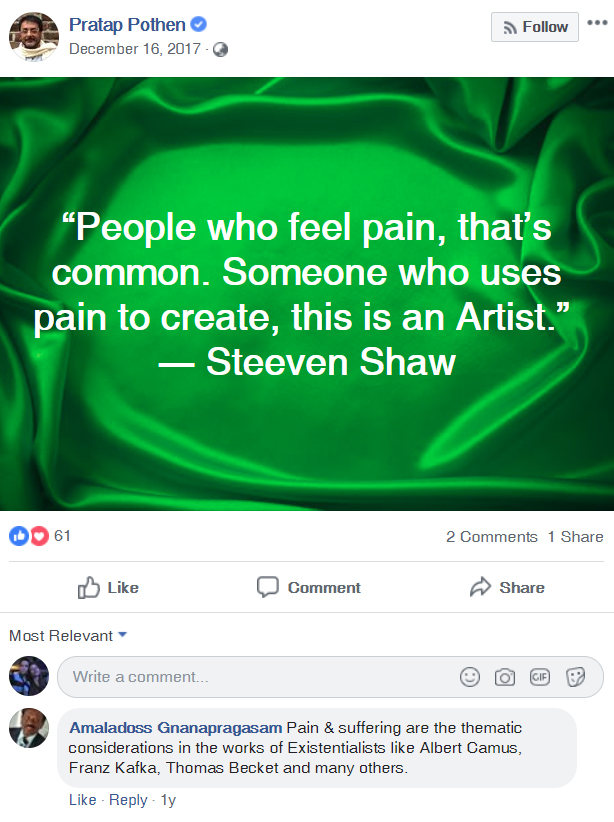 https://en.wikipedia.org/wiki/Pratap_K._Pothen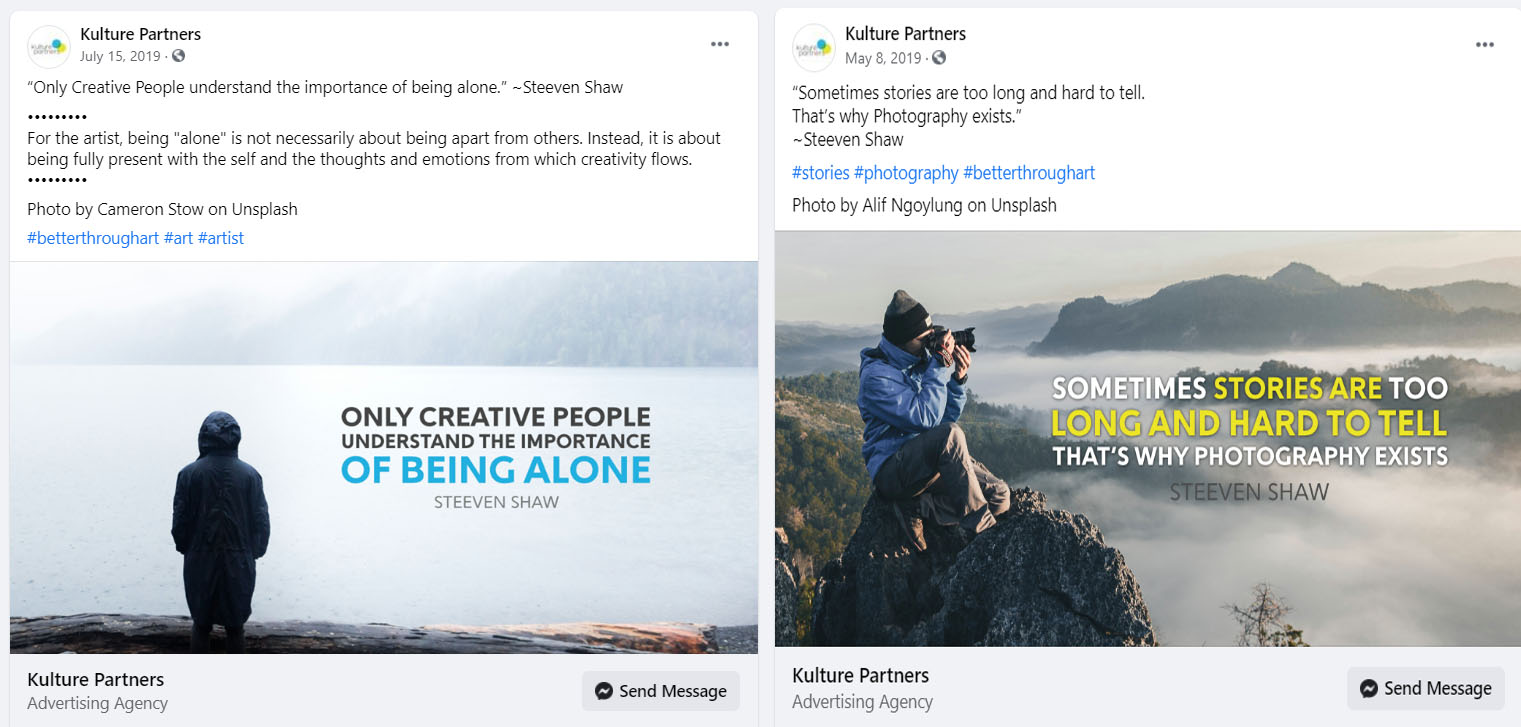 Other Quotes
"Trying to express yourself is more powerful than trying to be the best." (Steeven Shaw)
"The simplest things are sometimes more powerful than you can possibly imagine." (Steeven Shaw)
"Sometimes stories are too long and hard to tell. That's why Photography exists." (Steeven Shaw)
"Failure, is part of being Successful. Don't worry!" (Steeven Shaw)
"I don't believe in talent but hard work, personal stories, struggle, feelings, determination, and mental strength" (Steeven Shaw)
"Stop regretting every little thing. If you missed an opportunity, then create another one yourself ! Fight for it. " (Steeven Shaw)
"I'm addicted to the feeling you get, when you reach your Goals." (Steeven Shaw)
"Judging me doesn't define any little part of my life. It defines yourself. Then you act, based on your judgments." (Steeven Shaw)
"Never compare someone's story with others. We didn't grow up the same way." (Steeven Shaw)
"Photography equipment is about Image Quality. The result depends on Hardwork, Emotions, Life Stories and Imagination." (Steeven Shaw)
"Behind every talented person there is a painful story." (Steeven Shaw)
"Only Creative People understand the importance of being alone." (Steeven Shaw)
"When you think about the wasted time, you waste your time again." (Steeven Shaw)
"Powerful and Touching words that comes from someone's heart is more valuable than money." (Steeven Shaw)
"Don't waste your time copying someone's life or work. When you are not strong enough to handle the pain behind it." (Steeven Shaw)
"People who feel pain, that's common. Someone who uses pain to create, this is an Artist" (Steeven Shaw)
"Photographers can say millions of words. But their Photography will always tell the truth about them." (Steeven Shaw)
"Don't judge people for their success or what they have today, when you don't know their past." (Steeven Shaw)
"In the world of Photography, you must never forget the meaning of Simplicity." (Steeven Shaw)
"Strong people are those who have been broken so many times, lost many people in life but still have love to give and strength to trust again." (Steeven Shaw)
"Whatever you wish to do in life many people will always hate you, be yourself & enjoy life to the max. The important is to do what you love." (Steeven Shaw)
"One of the hardest things in life is to have words we want to say but for many reasons we have to keep these words deep down in our soul and sometimes, we have to find another way to spread our message." (Steeven Shaw)
"Life is about choices, choose the right ones. Whatever your past has been, it is your own fault if you stay that way." (Steeven Shaw)
"I prefer to learn and grow from my mistakes than listen to people who think they know everything." (Steeven Shaw)
"If you think that broken relationships are more painful experiences in life, then you need to learn more about life." (Steeven Shaw)
"Becoming a great man doesn't require Education, but Reflection." (Steeven Shaw)
"The more friends you have, the more unhappy you probably are. But never forget and ignore true friends." (Steeven Shaw)
"Arrogance kills Creativity, Curiosity and Passion. Stop it and you'll learn more." (Steeven Shaw)
"Your eyes are the Real Lenses of your camera controlled with your mind." (Steeven Shaw)
"The key to open the door to your happiness is in your hand and not with someone else." (Steeven Shaw)
"The only way to know who are your real friends is unfortunately when you fall down." (Steeven Shaw)
"People can copy many things, but will never be able to copy your feelings and the way you see life." (Steeven Shaw)
"Grades don't define intelligence and Age doesn't define maturity. Intelligence is something that comes from more than just School or University. Be careful of how you define intelligence." (Steeven Shaw)
"The importance about a work of Art is not just a question of likes and comments from friends. But the numbers of people who deeply understand the message behind the work." (Steeven Shaw)
"A picture is a personal diary where only the artist knows the meaning." (Steeven Shaw)
"Without Emotions, ART is nothing. Life is made of emotions, Life is an Art." (Steeven Shaw)
"My eyes are an ocean in which my feelings are reflected." (Steeven Shaw)
 
"There's a difference between, don't see and to refuse to see." (Steeven Shaw)
"There are some things that need to be lived to be truly understood. Words, invented by human are only made from certain letters to communicate with each other." (Steeven Shaw)
"A big heart without a very strong and powerful mind can be dangerous." (Steeven Shaw)
"I have a huge respect for people who takes their time to observe others and not judging too quickly." (Steeven Shaw)
"Only an Artist can deeply understand an Artist." (Steeven Shaw)
"The true meaning of love is not about saying i love you more than one million times, it's about doing a little thing that means a lot." (Steeven Shaw)
"Should we feel sad when people judge us for what we're not or laughing at immature people who judge us?" (Steeven Shaw)"
"One Life, One Soul, One Heart. On the same planet." (Steeven Shaw)
"Anger and pain are easier to express than happiness." (Steeven Shaw)
"When you see a water droplet, i see an ocean" (Steeven Shaw)
Don't smile to make people believe you're happy. But smile Because you're happy" (Steeven Shaw)
"Don't be what other people want you to be, just be yourself and live you life." (Steeven Shaw)
"There is only one true master of your emotions, you." (Steeven Shaw)
"True talent is not trying to be more talented or to feel superior than others, it's about to express your soul." (Steeven Shaw)
"The truth is that people tend to like what their friends likes but not what their heart likes." (Steeven Shaw)
"Before judging someone too quickly there's an awesome question that you should ask yourself first: Am i better?" (Steeven Shaw)
"Perfect Relationships don't exist, you will feel pain & sometimes your pain turn to happiness. Relationships aren't like the movies." (Steeven Shaw)
"Nobody Can Truly Understand The Feelings Inside Someone else." (Steeven Shaw)
"Being an artist is not just about the type of tools you use to do your work of Art. But it's the way you think about everything, your feelings and how you use your mind." (Steeven Shaw)
"The message & feeling inside a picture is more important than the cost of equipment." (Steeven Shaw)
"Everyone has experienced a different story in life, this is why some people don't agree with certain opinions." (Steeven Shaw)
"Believe it or not, but there are some truly talented people that cross your path for a good reason." (Steeven Shaw)
"For years many people make debates about Imagination & Knowledge to know what is more important. Imagination can easily create knowledge, but knowledge does not create imagination. When someone can combine these two things the result can be very powerful." (Steeven Shaw)
"Pourquoi faut-il perdre un être cher pour comprendre l'importance de cette personne dans notre vie? Et tout à coup vouloir comprendre son absence mais n'avoir jamais essayé de comprendre sa presence?" (Steeven Shaw)
"If you believe that everything really happens for a reason, then don't be afraid to do what you want." (Steeven Shaw)
"Emotion has no limits." (Steeven Shaw)
"Trouver une femme c'est du travail. La garder c'est un Art." (Steeven Shaw)
"The day you stop thinking you know everything is the day you'll start to learn more." (Steeven Shaw)
"L'importance dans la vie ce n'est pas de savoir qui sont ceux qui ne vous aiment pas. Mais de savoir qui vous êtes et d'avoir confiance en soi." (Steeven Shaw)
"Il y a deux types de personnes: Ceux qui parlent vraiment beaucoup pour dire n'importe quoi et pensent pourtant dire de grande choses et ceux qui parlent très peu en disant ce qu'ils ont le coeur mais qui font réfléchir." (Steeven Shaw)
"A true artist is someone who helps her mind to grow and find solutions while simultaneously helping others in some cases. It takes more than just math puzzles ." (Steeven Shaw)
"Never hurt a child because this child will become an adult one day and will kick your ass." (Steeven Shaw)
"Falling in love with someone is one thing, being loved in return is another thing." (Steeven Shaw)
"Il vaut mieux mourir en heros, pauvre et honnête que de mourrir riche et tricheur." (Steeven Shaw)
"Learning from books are just a little help in life but the real books are learning from experiences in the reality." (Steeven Shaw)
"Each sound reflects an image." (Steeven Shaw)
"I don't want to be the best, i just want to express myself." (Steeven Shaw)
"If you're not perfect enough for someone, you'll be for someone else. The answer is that we are all perfectly perfect." (Steeven Shaw)
"I smile when i want to smile, i hate fake smile." (Steeven Shaw)
"Emotions made us who we are. But if you can control it, you can change." (Steeven Shaw)
"Jealousy is also a sign of Weakness ." (Steeven Shaw)
"The most powerful person will always be the most discreet." (Steeven Shaw)
"On Facebook it's not the "Like" button the most important but to know the difference between Virtual and Reality" (Steeven Shaw)
"The more you Judge quickly the more you'll be surprised & confused." (Steeven Shaw)
"Who says Romanticism is a sin? Nobody, so don't be afraid to act like one and be proud. It's an Art." (Steeven Shaw)
"Never Judge People By Their School Knowledge." (Steeven Shaw)
"A picture is not just about beauty but the powerful feelings inside." (Steeven Shaw)
"I want to write a book, but i think images are better" (Steeven Shaw)
"Everyone speaks from experience but everyone is Unique." (Steeven Shaw)
"Searching for your soul mate is a waste of time. Do things you love and maybe you will have more chances." (Steeven Shaw)
"The answer exists, it's all about the question." (Steeven Shaw)
"I hate it when someone forces someone else to believe in something. It's like forcing to fall in love. Believing is a choice." (Steeven Shaw)
"Without emotions, Art is Nothing." (Steeven Shaw)
"In many cases, Music is the answer." (Steeven Shaw)
"We don't need a special day to show our love to someone." (Steeven Shaw)
"There are some things that can't be Copied." (Steeven Shaw)
"Anything and everything can be an inspiration for a true artist." (Steeven Shaw)
"I really like the sentence "I Love You" but only when it comes truly from the heart." (Steeven Shaw)
"True critics come from experienced people." (Steeven Shaw)
" Buying a plane doesn't make you a pilot. It makes you a plane owner." (Steeven Shaw)
" The sky is blue, through human eyes." (Steeven Shaw)
"Sometimes the answer you've been searching for so long, comes to you." (Steeven Shaw)
"Create images are another way of writing a book." (Steeven Shaw)
"It's sad for people to judge so quickly. You will miss a lot." (Steeven Shaw)
" The universe is so huge and immense, we ignore so many things." (Steeven Shaw)
" Le passé, Le présent et l'avenir se superposent et se croisent" (Steeven Shaw)